As we continue to focus on maintaining our position as a leading rolling stock owner and asset manager in the UK, our strategy is underpinned by our Sustainability Agenda.
With the UK's sharpened focused on green agenda and mobility, we are well positioned to support the transport industry's transition to net zero by 2050. We aim to do so through continuing to decarbonise our existing assets, and investing in green first-in-class solutions to grow our portfolio.
Focusing on what matters in our sustainability journey
Sustainability has always been embedded in our business. We are now sharpening the focus, while acknowledging we're on a journey.
While driving the UK's decarbonisation agenda and enabling a modal shift to railway continues to be our most material ESG topic, it's essential that we lead as a responsible asset owner and maintain sustainable business practices.
Our Sustainability Agenda sets out how we create value for our stakeholders as we deliver our strategy, responsibly. We continue to review our alignment with best practice and leading sustainability reporting frameworks.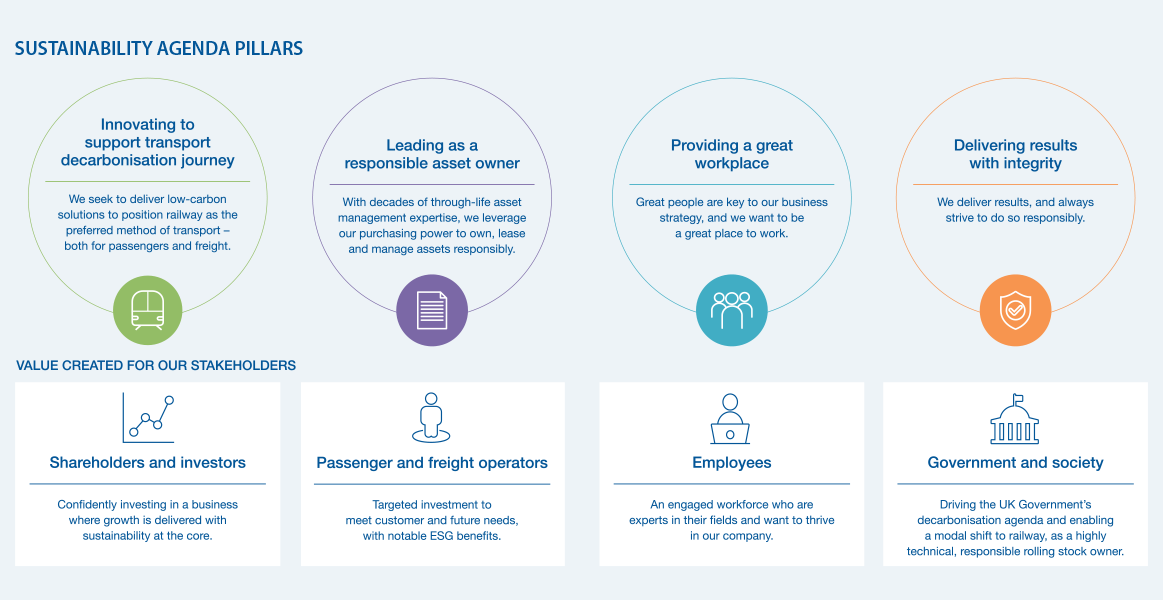 Governance of sustainability at Eversholt Rail
This is overseen by the Leadership Team (LT) of Eversholt Rail Limited, which approves our sustainability framework and receives monthly updates on our progress. Specific environmental, social and governance (ESG) topics are monitored by the LT's individual operational committees, under the guidance of our Sustainability Policy.
To ensure effectiveness of our Sustainability Policy, we have a clear governance framework, supported by a suite of tools and procedures. You can find out more about these, including management oversight of ESG in more detail, in the Policy.